We're Here to make It Disappear
Bulk Services
To receive pricing information and schedule a bulk pick-up, please call the office or contact us below.
Bulk Service is required to be scheduled 48 hours in advance.
All bulk items need to be curbside the night before the scheduled pick up day.
Bulk items may be scheduled with a separate truck from your normal trash truck. The bulk truck can run on your service day or the following day.
We ask that the bulk item remains curbside for collection.
If additional items or waste is put out for collection beyond what is scheduled, additional fees will apply.
Bulk Items
How to Schedule
All bulk items must be scheduled for pick up.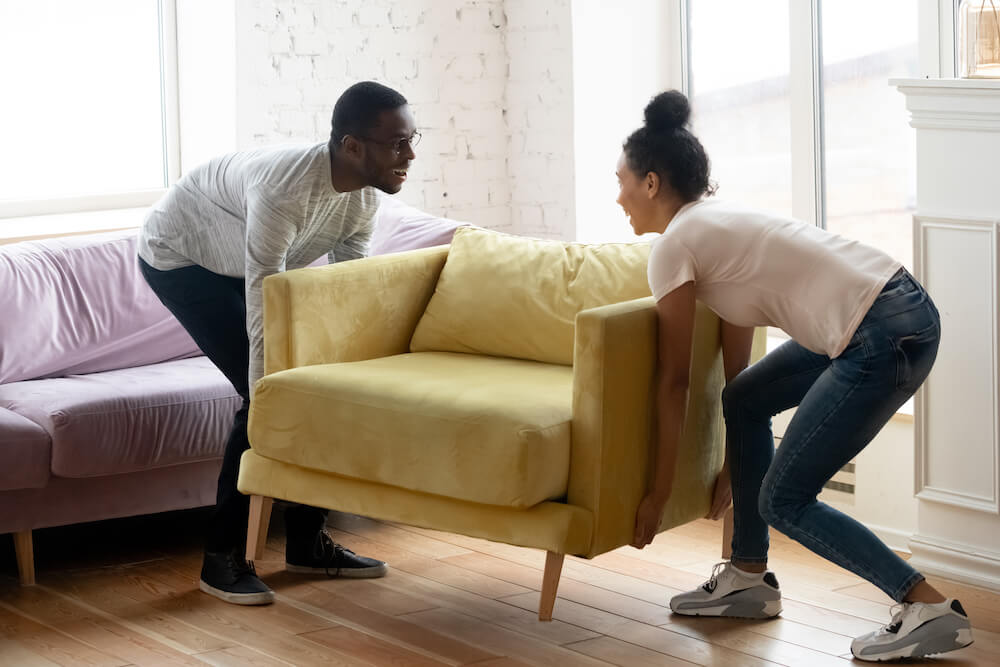 Included at No Additional Charge
Must be scheduled in advance.
Single Chair
Dining Room, Computer, Patio, or Bar Stool
Small Table or Stand
TV stand or End Table
2'x2′ or Smaller
No Glass
Small Coffee Table
3′ or Shorter in Length
No Glass
Fan
Floor, Oscillating, or Box Style
We Can't Take Everything
Common Items We Cannot Take
Some items are a safety risk for our employees. Other items are too large for our staff or trucks to accommodate.
This is not a comprehensive list and we may not be able to schedule your item for safety reasons even if it is not listed below.
Many of these items can be disposed of in our roll-offs.
Tires
Disposal of tires is highly regulated. Contact your local tire retailor for disposal options.
Swing Set
Too bulky and awkward to safely pick up.
Construction Material
We can help you get rid of construction material by renting a roll off.
Mirrors & Panes of Glass
These items can shatter in transport which is dangerous for our employees and the community.
Piano
Too heavy for us to safely maneuver and remove.
Trampoline
Too bulky and awkward to safely pick up.
Propane Tanks
Many propane retailer will take these or see if your local household hazardous waste (HHW) collection program will accept single-use propane cylinders.
Windows & Sliding Glass Doors
These will shatter in transport which is dangerous for our employees and the community.
Satellite Dishes
Please contact your satellite provider.
Safe
Too heavy for our employees to safely pick up.
Pool Table
Too heavy for our employees to safely pick up.
Air Hockey Table
Too heavy and awkward to safely pick up.
Hazardous and E-Waste Services
We can schedule the removal of some hazardous and electronic waste.
For items we cannot take or lower-cost options, check out your local counties' pages for availability.
Additional Local Resources
Explore what services and resources your county offers.
Hazardous Items
We Can Schedule for Removal
Hazardous item removal is not included with the service
Refrigerators & Freezers
PA requires doors & lids be removed before placing them curbside.
Televisions
Contain lead, mercury, and toxic chemicals.
Computers & Components
Including: Towers, Monitors, Laptops, Printers, and Personal Devices
Air Conditioners & Dehumidifiers
Freon and similar refrigerants used in these applicants require special disposal.
Learn More About
Bulk Service
Commonly Asked Questions
The simple answer is anything that can't go in your toter is considered bulky waste. That includes:
Items that can't easily fit in your container (extra and oversized items like additional trash bags, furniture, etc.).
Items that can't safely be put in your can including hazardous and E-waste.
Furniture & Appliances
 Extra bags or personal cans beyond what is included with weekly service.
You can schedule 1 bulk item for removal per week.
You can schedule 1 bulk item per week.
Payment for all bulk services is taken, in full, at the time of scheduling.
We accept most major credit cards or can process e-checks.
Please contact us at least 2 business days before your scheduled pick up day.
Cancellations made with less than 2 business days notice may not be eligible for a full credit or refund.
Please only put out the item(s) you have scheduled.
If you put out additional unscheduled items or waste, we reserve the right to charge for additional collection.
Please do not disassemble or cut up your bulk items to make them fit in you trash container.
They can quickly make your container to heavy to service and may become jammed
One standard item is included with your weekly service.
See the standard item section above for list of items you can schedule at no additional charge.
All items must be scheduled in advance even if there is no charge for the item.
The best way to get rid of construction material is to rent one of our temporary roll offs.