Municipal Waste Services
Spring City Borough
We Are Here to Help!
Our Customer Service team hours are:
8am – 5pm Monday-Friday
8am – 12pm Saturdays
Spring City Borough
Your Service Day is Monday
Place the trash and recycling out on Sunday evening for Monday pick up.
All You Need to Know About
Trash Services Spring City Borough
Whitetail Disposal is proud to partner with Spring City to provide waste service to its residents.
Limit of 6 containers or bags per residence.
Containers shall not exceed 50lbs/each.
Bags shall not exceed 32 gallons/each.
Your containers should be at least 3 feet clear of any other objects including mailboxes, cars, street signs, etc.
Yard waste cannot be put in the regular trash.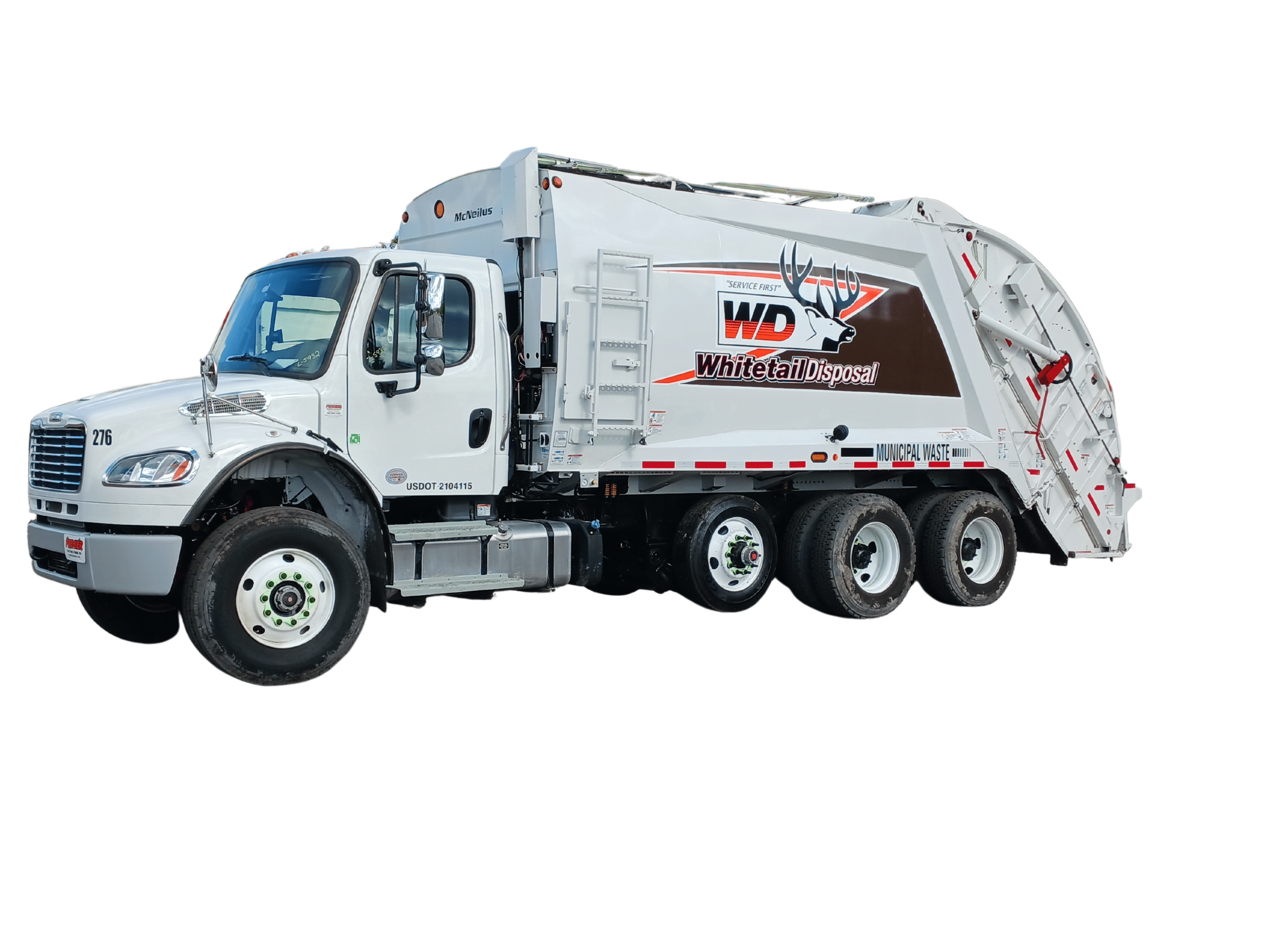 Special pick-ups for bulk items, furniture, tires, and appliances are available by the borough upon request at additional cost.
Please call the Borough Office for a quote and pick up time.
Recycling
Whitetail Disposal does not handle the collection of recyclables for Spring City Borough.
Learn How to Dispose
Yard Waste and Leaves
The most environmentally correct way to dispose of yard waste is to utilize Spring City Borough's yard waste compost programs.
For the convenience of their residents, Spring City Borough provides property owners with curbside yard waste removal.
Curbside leaf Collection in the fall.
Curbside grass clipping and yard waste collection.
2023 Dates to be announced by the borough.
Leaves should be raked into piles at the curb-line of the streets.
Piles should be no more than 4 feet in length and 2 feet in height.
Residents are asked to park away for leaf piles for safety and to allow room for the crew to operate.
Grass clippings, leaves, and twigs must be placed in brown yard waste paper bags and set at curbside for collection by the Borough.
Separate the grass clippings from the regular trash. Do not mix refuse with the yard waste.
All grass clippings must be bagged. The Borough will not collect loose grass clippings placed in containers.
All shrubbery and tree trimmings need to be bundled, tied together, should not exceed a length of 4 feet and be easy for one person to pick up.
Place at curbside for collection. Please be sure to keep separate from the regular trash.
Holiday Services and Schedule
Spring City Borough
If your pickup day falls on a holiday, we will be there the following day to service you.
Spring City Borough
UPCOMING EVENTS
Chester County Hazardous Waste Events
Check back in march for for 2023 dates.
Learn More About
Municipal Waste Services
Commonly Asked Questions
Regular household trash is fine to throw away.
If you have anything unusual like paint cans, tires, appliances, oil, or other chemicals please contact our office and we may be able to help you find a way to dispose of these items.
The Lanchester Landfill, 7224 28th Division Highway, Narvon (Route 322 West, Honey Brook), is accepting televisions, computers and computer peripherals.
They will accept no more than 3 TV's and/or monitors and they must be intact, not in pieces. There is no fee.
Monday thru Friday, 7:00AM to 4:30 PM and Saturday, 7:00AM to 11:30AM.
You must go onto the scale and let the weigh master know what you have. The weigh master will ask for identification.