Post-Holiday Waste Disposal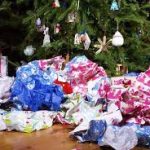 How To Properly Dispose of That Holiday Waste
Wrapping paper, cardboard boxes, ribbons, bows, flexible plastic packaging – what is the right way to dispose of all this waste once the gifts are opened and the holidays are over?
At first it seems easy, all paper, plastic and cardboard just goes into the recycling right? Unfortunately, not all packaging is actually recyclable. Cardboard, plain wrapping paper, and non-coated gift boxes are perfect to be flattened and placed into the recycling can. If you have extra, please make sure to flatten and bundle the boxes with string or twine and place next to your can. We can collect up to 2 bundles of cardboard next to the can each week.
For wrapping paper, the easiest way to determine if it is recyclable is to check the original packaging. If that is no longer available, a good general rule is any wrapping paper with glitter, metallic finish, or heavy coatings would not be recyclable. Tissue paper, ribbons, heavily coated gift bags are also not currently recyclable. Try to bag all materials together and place in the trash. For next year, consider buying wrapping paper that specifically states it is recyclable or get creative with older newspapers, comics, and plain paper. Wrapping paper can be made out of a variety of paper products!